WELCOME TO ANDOVER'S CURRICULUM CORNER!
Academics + Character = Success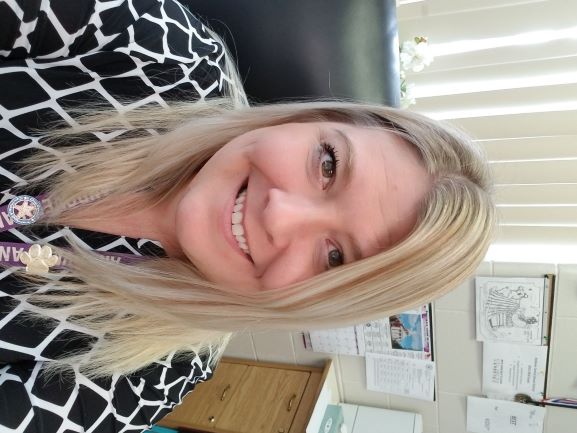 Mrs. Kathryn Slavinski
Director of Curriculum, Instruction and Assistant Superintendent
CIO/DDC
607-478-8491 EXT 236
kslavinski@andovercsd.org
Dear Andover Families and Community,
I want to take this opportunity to share a little about myself and what I bring to our cherished school district and community. I graduated from SUNY Geneseo with a Bachelor's Degree in Childhood and Special Education; my minor was in Psychology. I then went to Roberts Wesleyan College, obtaining my Master's degree in Literacy. My tenured teaching career began as a 6th-grade inclusion teacher at Hilton Central School District. In 2010, I moved down to the Southern Tier and was hired by Hornell City School District as a Literacy Specialist. Throughout the years working with Hornell CSD, I was offered the opportunity to become their Curriculum Mentor and a Professional Developer for the Greater Southern Tier BOCES. Throughout this time, I completed my administration certification in School Building (SBL) and District Leader (SDL) through Canisius College. In August of 2015, I was hired by Andover CSD as the Director of Curriculum, Instruction, and Staff Development, and three years ago, my title changed to include Assistant Superintendent.
So, what does my position entail? The majority and most exciting part of my position involve working with and supporting our teachers. I provide leadership and guidance in ongoing planning, implementation of curriculum and programs, data/assessment analysis, coaching/mentoring on best instructional practices, and professional development. I continually review, analyze and evaluate our district's curriculum and instructional practices, federal programs, state mandates, laws, policies, and regulations. As your Director, I ensure that our education objections are aligned to state standards and frameworks, and our instructional practices lend themselves to improving student achievement and instructional excellence. Every decision I make or suggestion I give must go through my essential question,
"Is what we are doing best for our kids?"
Over the past seven years, some of the accomplishments I am proud to share with you are:
1.) I co-wrote and was awarded the Round 7, 21st Century Grant, which brought in $1,192,850.00 (over the past five years) to create an after-school program, summer program, parents and community events, our backpack program, family counseling, field trips, and college visits to name a few (2017-2022).
2.) I wrote and was awarded the Round 8, 21st Century Grant, which will bring in $1,312,500.00 over the next five years to be able to continue our after-school program, summer program, parents and community events, the backpack program, family counseling, field trips, and college visits and much more new exciting things! In this round 8, I have secured a partnership with Alfred University to work together to create and open up opportunities for our high school students to become more college and career ready.
3.) I applied and interviewed with Harvard University and the National Center for Rural Education Research Center on behalf of Andover CSD and was accepted as a partner in a 5-year study on the implementation of various interventions to improve our district in three significant areas: Chronic Absenteeism, College Readiness, and College Enrollment. Andover, CSD was one of only thirty school districts selected in NYS. This past fall, Harvard University asked me to present Andover's successful family engagement intervention at the NCERN conference (National Center for Rural Education Research Networks). I was so honored with the opportunity to represent Andover CSD at the national level!
When not working with teachers, I oversee several other district state or federally mandated positions. Some of these areas include Chief Information Officer (CIO), District Privacy Officer (DPO), Public Information Officer (PIO), Independent Evaluator for teacher APPR, Title IX Officer, and the District Certification Officer for teacher CTLE hours. I know this seems like a big bowl of alphabet soup. Still, it is essential to realize that although we are a small district with a student enrollment of less than 300, the positions, laws, regulations, and mandated duties are the same for every district in the state, no matter the size.
I cherish our small school district and truly understand how special and unique Andover is. Having taught in much larger school districts and worked at the state level, you realize quickly that the heart of a small-town community is strong and precious. But, most importantly, relationships mean everything, and everyone is family. This is why I love working for Andover CSD, and when my son is old enough, he too will experience what it is like to be an Andover Panther.
Thank you for all the support you have given me over the past eight years, and I look forward to many more with you! If you have any questions, comments, or ideas, please do not hesitate to contact me or stop by.
Your partner in education,
Kathryn Slavinski
PARTNERSHIP WITH HARVARD
Dear Andover Family,
It is with great excitement I share with you our district's wonderful news! Andover Central School District has been accepted to partner with Harvard University in a five year network collaboration initiative. Last year the U.S. Education department gave Harvard University's research team (NCRERN-National Center for Rural Education Research Network) $10 million dollars to work with selected school districts to help them identify and test evidence-based solutions to specific challenges that are obstacles to student achievement. For example, Andover Central School District will be focusing on these three areas: Chronic Absenteeism, College Readiness and College Enrollment.
Harvard University decided to work with school districts from Ohio and New York based on the high number of rural districts compared to the rest of the country. Once these two states were selected they designed the network to include 30 districts from both Ohio and New York. Roughly 340 school districts in New York were identified. After completing the application process and leadership interview, Andover Central School District was contacted on June 21st, 2019 and was informed they were one of the 30 chosen NYS school districts!!! We are still speechless and excited to begin this empowering learning to effectively continue to improve our student outcomes. As a district we will be providing data to Harvard University, networking with other selected school districts and growing professionally through collaboration with both national and international experts. Through this intensive learning we will be implementing different strategic plans based on the three focus areas over the next five years. If you can't tell, we are very excited and honored!
This past school year has been one of our best! Our student achievement continues to rise higher than it has been the past several years and our Regents test scores were phenomenal! We are so thankful to be able to meet the needs of our students, families and community with vast amounts of services, support and opportunities. We are always challenging ourselves on what direction to take next. We are open to any ideas you think would be great for Andover and our community.
Please continue checking our website and sign out front for upcoming events and opportunities for our families and community members. As always my door is open, please feel free to stop by with any questions and/or comments.
Helpful Links:
Click below to view the NYS Next Generation Standards & visit the Next Generation page for the implementation timeline!
https://www.engageny.org/next-generation-learning-standards
Click here for the Next Generation Implementation Roadmap
Click here for the Next Generation Standards Parent Brochure